About
Antler Ranch
Antler Ranch is located in the northern foothills of Bosque County, Texas. Located one hour southwest of Fort Worth and DFW airport, making it a convenient location for everyone in the country to reach our facility. We were founded in 1989, making us one of the pioneers in the deer breeding industry in Texas.
Antler Ranch hosts a state of the art deer breeding facility utilizing the best practices in deer breeding and fawn raising techniques. Our staff uses the latest AI technology combined with a proven low stress environment to achieve one of the highest conception rates in the industry. We utilize laparoscopic insemination, microscopic semen evaluation, and advanced veterinary care during the insemination process to achieve our success.
Our team's years of experience in deer breeding and animal husbandry knowledge leads to an environment that allows our fawns to reach their full potential. The fawns produced at Antler Ranch are raised in a low stress environment that leads to an exceptionally calm temperament, which is ideal for breeding programs. Our fawns have gone on to establish outstanding breeding herds for our clients.
In 1989 Antler Ranch acquired "King" one of the leading sires of his time. Over the years "King's" offspring have created a superior doe herd that has been selected for their ability to produce cleaner frames. Today we combine these does with leading AI Sires to continue our tradition of exceeding our client's expectations.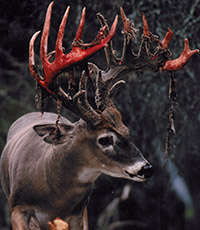 Learn about our Interactive Deer Cards keyboard_arrow_right
Our
Bucks
Learn about our Interactive Deer Cards keyboard_arrow_right
Our
Does
Our
Facility